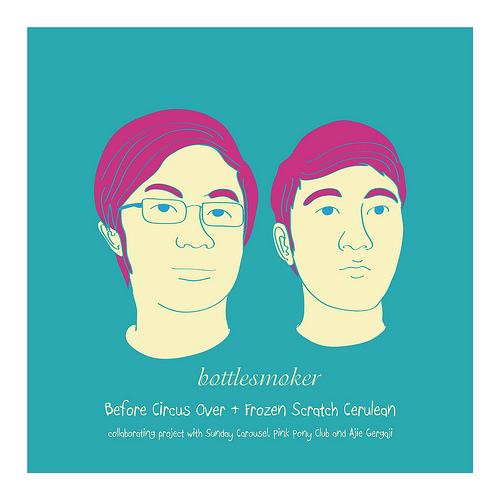 RELEASE DATE /

07 July 2010

CATALOG /

TT005

DOWNLOAD 2 /

Single Only
Production Notes
Track 1 by Bottlesmoker / Sunday Carousel / Pink Pony Club
Track 2 by Bottlesmoker / Ajie Gergaji
Cover Art by Akbar (A Stone A)
Bottlesmoker are Anggung Kuy Kay & Ryan Nobie Adzani.
Liner Notes
"Before Circus Over + Frozen Scratch Cerulean" is a single by indietronica band Bottlesmoker. It was released on the internet in 7th of July 2010 on Tsefula/Tsefuelha Records [T/T 005]. The single contains two songs:
A remix of "Before Circus Over," which was originally a track on Bottlesmoker's 2nd album "Slo Mo Smile". This remix was done in collaboration with Sunday Carousel and Pink Pony Club.
The next track is a new song entitled "Frozen Scratch Cerulean". This track sees Bottlesmoker spread their wings onto more shoegazer territory with the help of The Milo's Ajie Gergaji.
(Ababil Ashari)