RREC FEST #2
Music / Movie / Bazaar / Exhibition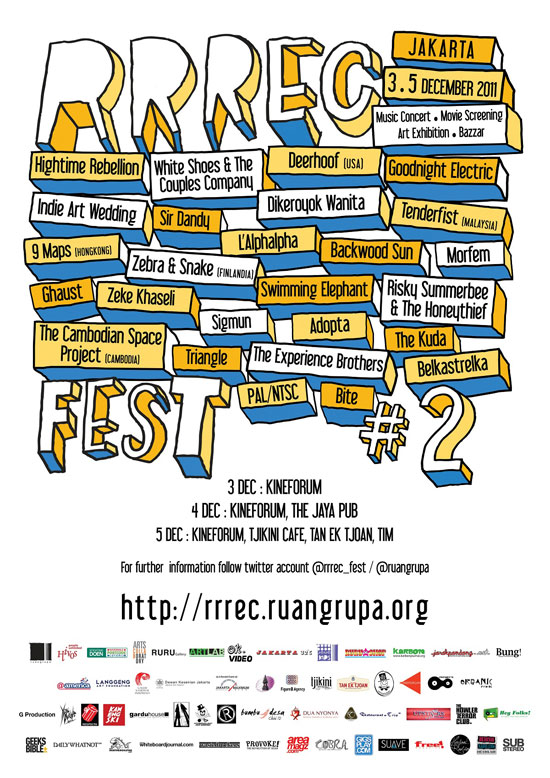 ruangrupa kembali mempersembahkan RRREC FEST (ruangrupa Record Festival) di Jakarta pada 3-5 Desember 2011. Festival ini telah diselenggarakan pertama kali di awal 2011 lalu sebagai bagian dari perhelatan Decompression #10 ruangrupa's 10th Anniversary. RRREC FEST pertama disaksikan oleh lebih dari dua ribu penonton yang memadati Galeri Nasional Indonesia selama dua hari.
RRREC FEST bukan sekadar perhelatan musik. Festival ini hadir sebagai sebuah pernyataan akan pentingnya semangat alternatif, tidak hanya dalam dunia musik tetapi juga dalam praktik kebudayaan lainnya. Semangat ini akan selalu membuka ruang bagi lahirnya berbagai penciptaan dengan gagasan segar dan inspiratif.
Kali ini, RRREC FEST #2 diselenggarakan selama tiga hari di mana pada hari terakhir semua penampilan band tersebar di 5 titik lokasi berbeda di sepanjang jalan Cikini. Salah satunya adalah adalah Kineforum (Taman Ismail Marzuki) yang memutar video-video musik dalam program 'ruru.mov'. Sama seperti RRREC FEST sebelumnya, acara ini bertujuan untuk mendokumentasikan energi dari sebuah generasi dalam musik, baik secara audio maupun video, sehingga dapat terekam dalam jiwa para penggemar musik yang datang ke acara ini. RRREC FEST #2 juga bermaksud untuk menampilkan musisi dan band independen lokal dan internasional yang memiliki keunikan, agar dikenal lebih banyak orang. Selain musik, RRREC FEST #2 juga mengikutsertakan berbagai bentuk aktivitas kesenian lainnya berupa: bazaar unik, pameran poster, mural dan stiker, pemutaran video, fotografi, dll. Kurator RRREC FEST #2 adalah The Secret Agents.
Dalam RRREC FEST #2 The Secret Agents telah memilih 26 band paling inspiratif dan lintas genre: folk, pop, new wave, rock, eksperimental, hingga elektronik. RRREC FEST #2 secara khusus merayakan keragaman budaya kontemporer di Asia Tenggara, sebuah kawasan yang secara geopolitik memiliki posisi yang penting dalam peta kebudayaan dunia. Festival ini juga mengundang musisi dari Amerika Serikat, Hong Kong, dan Finlandia. Keragaman ini adalah bentuk dari komitmen RRREC FEST untuk membuka ruang bagi pertukaran gagasan, semangat, dan kreativitas bagi para musisi, seniman, dan masyarakat luas.
Selama tiga hari, kawasan Cikini Raya akan menjadi lokasi perhelatan RRREC FEST #2. Di samping memiliki nilai sejarah yang penting bagi kota Jakarta, Cikini Raya juga menyediakan infrastruktur yang memadai. Di sana terdapat trotoar yang nyaman bagi pejalan kaki, berbagai kafe dan restoran dengan suasana yang hangat, Pusat Kesenian Jakarta, hotel, dan sebuah toko roti tua yang menyimpan memori. RRREC FEST melihat semua itu sebagai modal lokal yang sangat berharga untuk diapresiasi dan dinikmati bersama.
Tiga titik panggung yang berbeda, berupa stage-in dan stage-out, akan disediakan. Stage-out yang bertempat di halaman Teater Jakarta Taman Ismail Marzuki menawarkan suasana festival dengan tingkat keakraban sosial yang besar, bersatu dengan bazaar produk-produk kreatif karya para seniman muda Ibu Kota. Stage-in digelar secara intim di dalam kafe, serta toko roti legendaris, Tan Ek Tjoan. Pada hari terakhir seluruh acara akan diadakan serentak dengan konsep hop-in.
Bekerjasama dengan Kineforum, RRREC FEST #2 mengadakan ruru.mov, program pemutaran film dan video. Secara khusus, program kali ini memutarkan enam karya audiovisual yang dalam berbagai cara melihat dan mengetengahkan tema musik dan anak muda. Keduanya tidak dapat dipisahkan dan saling mempengaruhi dalam berbagai bentuk ekspresi artistik.
RRREC FEST#2 SCHEDULE:
DAY 1 – Saturday, December 3, 2011
Special Screening RURU.MOV, at Kineforum, 3 films screening.
(Time 14.15 – "25 Musik Video Menginspirasi di Indonesia(2001-2011)" / 17.00 – "2 Tiang 7 layar" + "Aku seperti burung yang ingin terbang bebas" / 19.30 – "Dongeng Rangkas")
DAY 2 – Sunday, December 4, 2011
Special Screening RURU.MOV at Kineforum,3 films screening (Time 14.15 – "Dongeng Rangkas" / 17.00 – "Live from RRREC FEST #1" / 19.30 – "25 Musik Video Menginspirasi di Indonesia (2001-2011)")
Music Concert: SUPERBAD! at The Jaya Pub. Six band performances including: Backwood Sun (Jakarta, ID), 9 Maps (Hong Kong), Risky Summerbee & The Honeythief (Yogyakarta, ID), Sigmun (Bandung, ID), The Cambodian Space Project (Cambodia), and The Experience Brothers (Jakarta, ID). FDC : 30,000 IDR, capacity 200 persons.
DAY 3 – Monday, December 5, 2011
Special screening RURU.MOV at Kineforum. (Time: 14.15 – "2 Tiang 7 layar" + "Aku seperti burung yang ingin terbang bebas" + discussion / 17.00 – "Ambisi")
Music Concerts at Tjikini Cafe with: Triangle (Bandung, ID), Backwood Sun (Jakarta, ID), Indie Art Wedding (Jakarta, ID), 9 Maps (Hongkong), White Shoes & The Couples Company, Swimming Elephant, and Sir Dandy (Jakarta, ID) / FDC: 30,000 IDR, starts from 4PM. Capacity 100 persons.
Music Concerts at Tan Ek Tjoan with: Adopta, Belkastrelka, Tenderfist (Malaysia), Zebra & Snake (Finland), Goodnight Electric, PAL/NTSC, Sigmun, Ghaust, Bite, and Morfem. FDC: 25,000 IDR, starts from 4PM. Capacity 300 persons.
Music Concerts at Taman Ismail Marzuki with: The Kuda, L'Alphalpha, Risky Summerbee & The Honeythief, Hightime Rebelion, Zeke Khaseli, The Cambodian Space Project (Cambodia) The Trees & The Wild (change to "Dikeroyok Wanita"), The Experience Brothers, Deerhoof (USA) / Donation (voluntarily donation to the box available on the spot), starts from 3.30 PM. Capacity 500 persons.
***
Untuk info lebih lanjut silakan kunjungi http://rrrec.ruangrupa.org/ , http://www.facebook.com/#!/rrrecfest dan follow kami di www.twitter.com/rrrec_fest.
***
Pada kesempatan ini, Yes No Wave Music bersama Indonesian Netlabel Union akan menggelar 'Offline File Sharing' dan 'Netlabel Fundraising' pada hari Senin, 5 Desember 2011 bertempat di Taman Ismail Marzuki. Pada 'Offline File Sharing' beberapa netlabel lokal akan membagikan seluruh album rilisannya secara offline. Pengunjung juga bisa menyalurkan donasinya dengan membeli merchandise yang diproduksi baik oleh label maupun artist yang tergabung didalamnya.